September 23rd, MCPS Yard Sale and Open House
The Dharma Gate Facility Committee will hold an Open House and Yard Sale for the neighbors and general public on Saturday, September 23rd from 10AM to 2PM. This is a good way to get rid of items we have accumulated at Dharma Gate but no longer use, provide a comfortable way for our neighbors to visit and find out about our programs and raise a little money to support the facility. You can help in the following ways:
Start setting aside items to donate for the yard sale
Sign up to help with the sorting/pricing of the items on Friday, Sept 22nd between 8:30 and noon.
Sign up to help with the sale or host tours of the facility and talk to visitors on Saturday
Contact Ellie Graham at elinoragraham@gmail.com if you can help or have questions.
The Grace in Aging: Book Club, Select Mondays from 4:30 to 6pm
The first meeting on The Grace in Aging: Awaken As You Grow Older was held on July 17th with several folks participating and some deep sharing about our feelings as we move through the 6th and 7th decades of our lives.  Please join us on the following Mondays in the Dharma Gate Library. – Sol, Ellie and John F.
October 9th

at

4:30-6pm

in the Dharma Gate Library.
We will be discussing the Chapters on "Forgiveness" and "Humility", pages 151-186 and Jack Baker will facilitate.  Here is poem by Jan Richardson from the book related to these chapters that seems very relevant for so many of us: Let what distracts you cease. Let what divides you cease. Let there come an end to what diminishes and demeans, and Let depart all that keeps you in its cage.
Practice Committee Meeting; All are welcome
Tuesday October 10th, 6:30-8:30pm: Please note time change to make it more accessible!
November 4th, 9am-12pm, lunch 12-1pm: Practice Committee will have a 1/2 day organizational meeting called: How we're running this place – Keeping the Dharma Wheel Turning
It is our intention to have at least one person from each constituent group at the meetings to report on the latest activities, future plans, concerns. Reports from the groups are helpful if there is not a representative.  All MCPS members are invited to attend and contribute. To send an email with your MCPS Practice Committee Suggestions,
click here.
Upcoming Board Meetings, 4:15pm at Dharma Gate; all are welcome
Monday, September 25
Monday, October 23
Monday, December 4
Optional sitting begins in the Zendo at
3:45pm
for those who can make it. All MCPS members are welcome to attend Board meetings. If you have something you would like to bring forward to the Board, please let Robbie know two weeks before the meeting when the agenda is being set.This page is updated at the end of each month.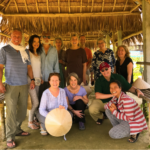 Dear Friends and Sangha Sisters and Brothers, The Loving Work Foundation is pleased to announce our SPRING 2018 'JOYFULLY TOGETHER IN VIỆT NAM' RETREAT SCHEDULE.  In the Tradition of Zen Master Thich Nhat Hanh March 10 – March 25, 2018: Loving Work…