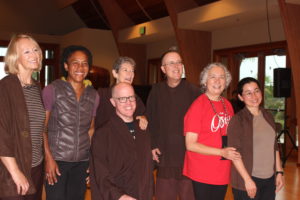 Dear Thay, Dear Sangha, Dear Friends,
You are invited to celebrate John Malcomson's OI ordination and 49th birthday.
When:
Saturday October 21st
, from
6:00 to 8:00 PM
.
What to bring:  Dessert (gluten-free, alternative flours and/or vegan encouraged!) and tea to share (alcohol-free event)
-acoustic instruments and your voice welcome!
On Saturday Sept. 16th John was ordained as a lay member of the Order of Interbeing(OI), a community of Zen Buddhist practitioners committed to the integration of spiritual/mindfulness practice and social engagement. The OI was founded by Thich Nhat Hanh in 1966 as a way to respond to the sufferings of the Vietnam War. The commitment to OI is one of personal practice and building spiritual community.
 It involves a commitment to study and practice with the 14 Mindfulness Trainings of the Order of Interbeing [ 

https://

orderofinterbeing.org/about/our-history ]. We receive a "true" name in conjunction with our ordination. A group that ordains at the same time becomes an "ordination family." John's family is the "Dwelling" family, and his new dharma name is "True Insightful Dwelling." A dharma name speaks to who we already are, and it is an invitation to cultivate and embody the name even more deeply.
More info on John's journey towards becoming an Interfaith Hospice chaplain on his website: https://www.anurturingpresence.net/